Soul of Fire
"You can't run from your demons, Sheba An-Pyr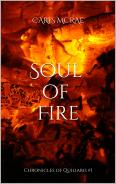 Soul of Fire (Chronicles of Quiliaris I). There will come a time to take a stance and confront them, regardless of the consequences. Even at the cost of your life. You can't escape your destiny forever, Child. There is a time in everyone's life when they need to rise to the challenge, to be courageous when faced with defeat – and yours is now."
In Quiliaris, strength and power are revered. Sheba An-Pyr, Princess of Fire, has neither. Neglected by her family, shunned by her people, and a murderer on her heels, she lives her life in the shadows. Trying her best to keep a low profile, she travels the lands with her Hashisin uncle as his servant, but when he is summoned to his Warrior Guild's quadrennial tryouts, things begin to change. A twist of fate allows her to partake in the trials, and with every challenge she masters, she discovers more of who she is and where her destiny lies.
An age-old prophecy, scheming Gods, cantankerous beasts, and chauvinistic Warriors - Soul of Fire has it all. Follow the Princess of Fire as she breaks free from the chains of her past and becomes the Warrior, the Hashisin, she is meant to be.
Because without her, Quiliaris might very well be lost.

This is the first book in the Chronicles of Quiliaris series. Follow Sheba's way from a neglected child to a young woman who discovers her strengths and powers in the most unlikely environment and against all odds.
Interested? Then try a sample:
If you liked what you read, then get the full novel (Kindle) on Amazon.com
If you want the paperback, then get it on Amazon here